Jument grande et puissante au mental exemplaire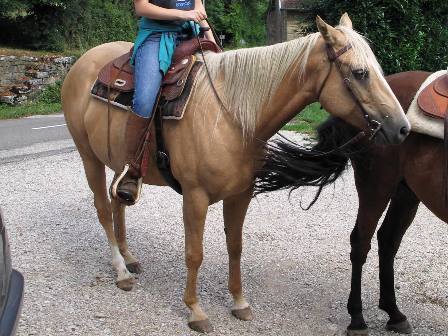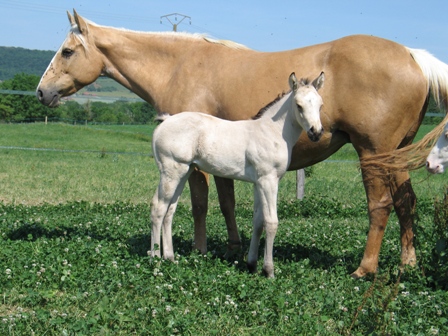 PP AQHA + RFQH + NFQHA "80%"
Testée négative pour HYPP, HERDA, PSSM, GBED.
Produit des poulains grands et très costauds au tempérament très calme et stable, l'idéal pour l'exterieur
Robe : Palomino
Lignée :

TARDY TOO
99% NFQHA AQHA H-14/P-6.5 Arena ROM. An AQHA All-Time Leading Sire. SIRE OF: World Champion Offspring (8), Reserve World Champion Offspring (5), Superior Halter Offspring (19), Superior Performance Offspring (18), AQHA Champion Offsping (5), ROM earners (90).

PESKY DUNDEE
Open Show Winner Performance Champ Sire/Dam of Breed Assn Point Earner Sire/Dam of Breed Assn Show Champ Sire/Dam of Register of Merit Pesky Dundee has been shown in reining hunter and pleasure. His babies excell in everything from hunter over fences to halter to barrels to western pleasure. He has produced a Solid Gold Futurity champion and numerous Futurity winners.

SKIPS DUNDEE
AQHA Superior Halter Great grandsire of SIERRA SUPREME, sire of WC, and RWCs Grandsire of a World Champion Halter Mare.

STORY MAN
AQHA Champion P-62 Race SI-91 ROM Race, 12-2-2-2, $25,519 As of 1982, sired 5 AQHA Champions, World\\\'s Champions, 28 Superior. offspring and get with over 6,000 AQHA points. Outstanding Offspring for Story Man Hezacoy Story, 645 Pts. Knight Time Story, 644 Pts; High Pt. AMT Equitation Horse; Superior AMT WP, HUS & HSE Lucks Bold Story, LTE BR-$15,094.05 Mark This Story, LTE BR-$3,228.71 Miss Hialeah Story, World Champion Yrl Mare Storys Gal, EP LTE-$829.40 Storys Jet Deck, $19,031 - RC

IMPRESSIVE
World Champion Halter Sire Of: World Champion Halter horses #4 AQHA All-time leading sire by # of registered progeny 2,250 Registered Foals Total Points Earned: 24,602.5 AQHA Halter List: #9 All-time leading sire of Halter ROM qualifiers (43) AQHA Performance List: #19 All-time leading sire of Performance ROM qualifiers (89) #13 All-time leading sire of AQHA Champions (21) Foaled in Oklahoma, April 15th 1969.