Le cheval de ranch par excellence !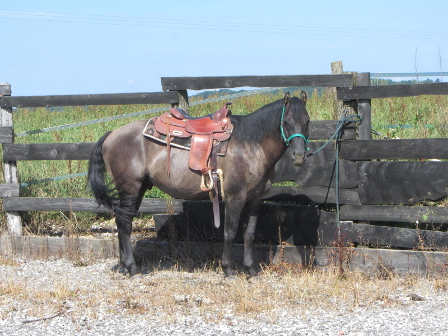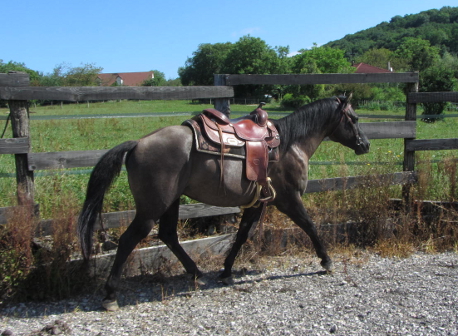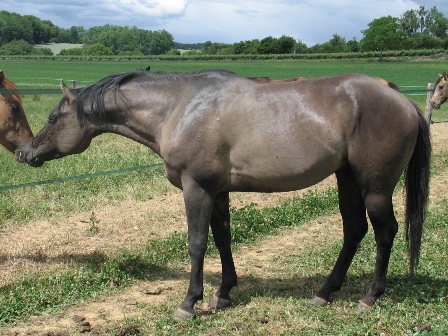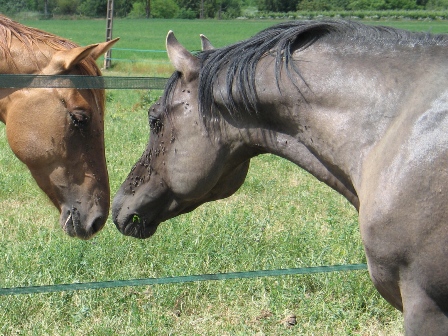 Steel est né au 7HL Ranch au Texas et représente en tous points le cheval de ranch idéal que nous souhaitons faire naitre au Ranch des Vignes.
Steel Monkey est testé négatif pour le 5 panel & LWO
PP AQHA + SIRE + NFQHA 92%
Origines Fondations de Cow Horse : KING P234, POCO BUENO, DOC BAR, PRETTY BOY, BLACKBURN, OLD SORREL, les légendes du cutting !
Avec en + des champions comme :


CLARKS DOC BAR
ROM Cutting-Open
NCHA $2,329 COA
Sire Record:
Registered Foals: 619; Total Points Earned: 1,771; World Championships: 2; Res. World Championships: 2; Superior Perf. Awards: 5; ROM Perf. Awards: 52; High Point Wins: 1, Halter Points Earned: 28 Equi-Stat Offspring Total Cutting LTE: $1,840,382 Equi-Stat Offspring Average Cutting LTE: $10,224 Offspring NCHA LTE: $1,347,992 Offspring NRHA LTE: $255.

DRY DOC
Full brother to DOC O LENA.
NCHA $85,148.16 1971 NCHA Open Futurity Champion 3rd NCHA Non-Pro Top Ten NCHA Hall of Fame AQHA Reserve World Champion Senior Cutting Horse Superior Cutting. Equistat Top Fifteen All-time Leading Cutting Horse Sires

DRY SAN
Top Ten World Show, \\'82 4th NRCHA SB O Futurity NCHA money-earner: COA, Bronze, Silver, Gold, Platinum; NCHA Earnings: $91,082

LITTLE STEEL DUST
Sire of:
ROM & point earners in Reining, Roping, Team Penning, NRHA Money Earners, NFQHA National Champions Leading Sire of NFQHA In Hand Trail Points, IBHA & ABRA Dun Factor & ROM 5 AQHA ROM Reining AQHA World Top Ten IBHA Halter & Performance points & ROMs NRHA money earners NRCHA money earners outstanding rope horses NFQHA All-Time Leading Sire of Point Earners & 5th All-Time Leading Sire of Total Points Multiple NFQHA National Champions National Year End High Point Champions COAs winners 2006 IBHA Reserve World ChampionWorking Cow Horse EXTREME Cowboy Race III Win

A cela s'ajoutent des champions de vitesse :


DIAMOND BOB
AQHA Race SI-95 AAA ROM Race (SW)23-5-7-5 $3,697 1949 Champion Running Stallion

SNIPER REED
AQHA Champion ROM Arena Race SI-110 AAAT ROM Race World Champ, Reserve World Champ Sire, Race Get Money-earners

DRIFTWOOD
ROM Sire AQHA Legend ROM Race Colts ROM Arena Colts Honor Roll Colts

SKIPPER W
AQHA Hall of Fame 2011 15.2 88% NF Sired 3 World Champions, 13 AQHA Chs, 118 arena ROM, 4 race ROM, 17 Sup. Hal. & 11 Sup. Perf
Vraie sélection de travail, pedigree construit en évitant la consanguinité. Steel Monkey a un excellent mental et possède le cow sense, ses poulains sont très agréables et intéressants à travailler.
Superbe conformation de type ranch, 1m52, un dos court, des membres forts et une excellente qualité de pieds, une petite tête arabisée et ganachée qu'il transmet.
Robe grullo homozygote sur le noir (jamais d'alezan) et hétérozygote sur le dun.